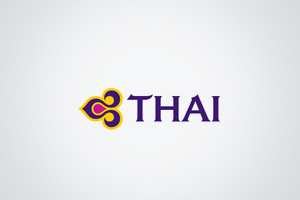 Thai Airways International, a founding Star Alliance member, flies to over 70 destinations across 5 continents. The THAI network in Asia is the region's largest and most comprehensive, connecting key business and leisure destinations from its hub in Bangkok. Consistently ranked among the world's 5 best airlines, THAI is renowned for its legendary service and gracious Thai hospitality. THAI, smooth as silk.

For more information visit: www.thaiairways.com
Earn Miles
You earn miles on flights operated by Thai Airways based on the type of fare you purchase and the distance you fly. Please make sure, at the time of booking that your booking class is eligible to earn miles, and remember to register your ShebaMiles membership number during reservation or check-in so that miles are automatically credited to your account about five days after the date of boarding.
The table below shows the miles you will earn in each booking class on flights operated by Thai Airways.
Class of Service

Booking Class

Accrual Rate

Royal First Class

F

250%

A, P

200%

Royal Silk Class

C, D

150%

J, Z

125%

Economy Class

Y, B, M, H, Q

100%

T, K, S

50%

G, V, W

0%

Award/ ID/ AD Travel

O, I, E, X, R, N

0%
Classes and flights for mileage earning and the rate of mileage earning may change without prior notice according to the circumstances of the partner airline.